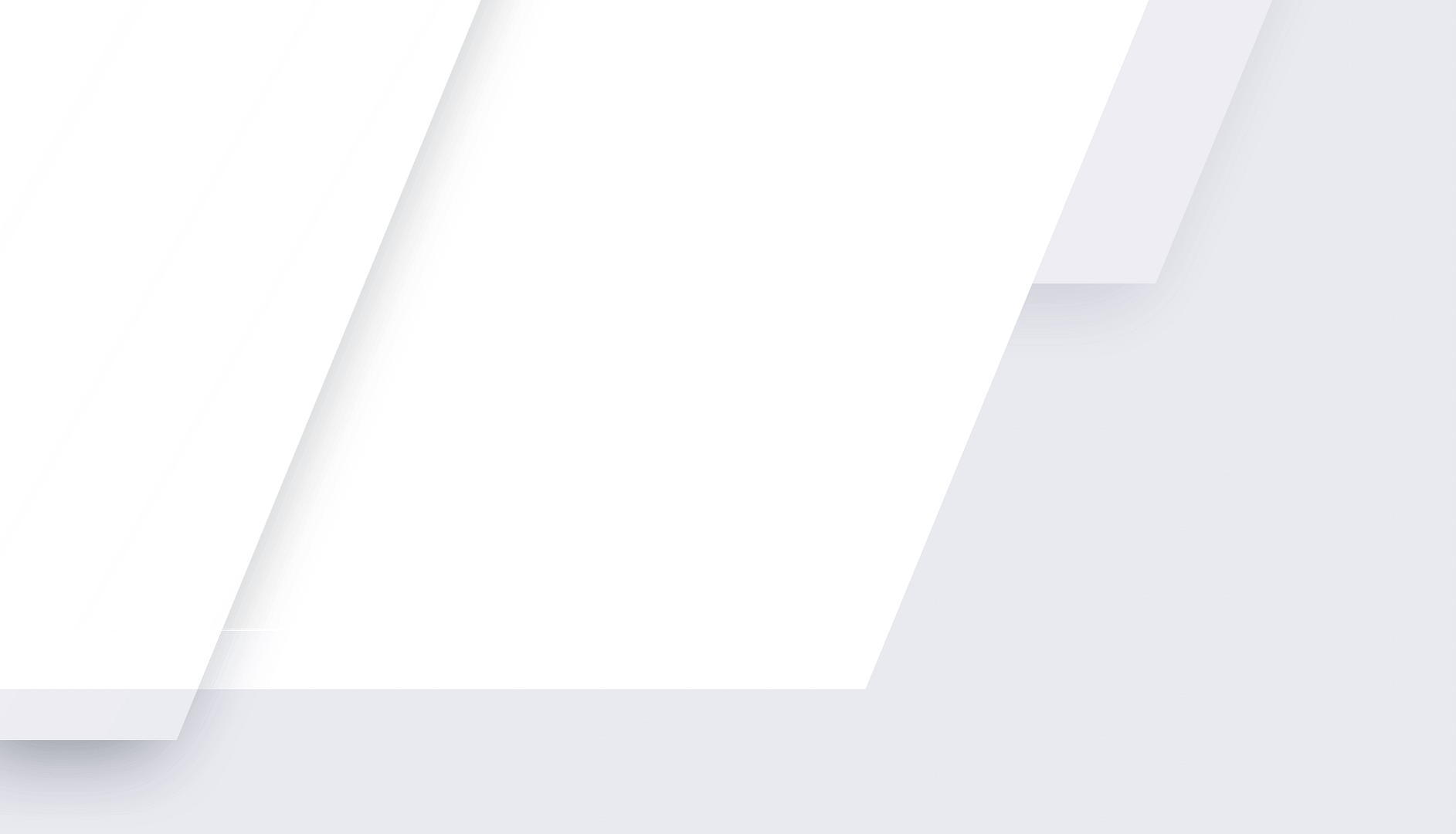 If you're looking to get a motorcycle license in New Brunswick, look no further than Moto Elite NB, the ultimate resource for drivers in New Brunswick. We'll help you navigate the process of obtaining a Class 6 motorcycle licence, provide guidance on motorcycle safety driving, and prepare you for the motorcycle driving test. Join our passionate community of class 6 motorcycle riders and make 2023 the year you drive a motorcycle through the stunning landscapes of Canada!
Minimize Motorcycle Accidents by getting your mandatory Safety Course
We've got a super simple, step-by-step guide to help you snag a license in New Brunswick. We'll walk you through all the important stuff you need to know, like requirements, fees, and even some handy tips to ace the test using the NB safety course. Let's get you that license!
riding a motorcycle comes with great responsibility
Acquiring a Motorcycle Graduate Driver's License (GDL) in New Brunswick takes at least 72 hours, but don't worry, we're here to guide you through it. Remember, riding a motorcycle comes with great responsibility; so completing all requirements from Service New Brunswick is essential.
training is super important for your safety
Obtaining a graduated driver's licence in New Brunswick is a privilege that requires dedication. You'll need to complete practice tests and stay focused throughout the process. With motorbike riders facing higher chances of collision compared to regular vehicles, proper training is super important for your safety. Riding a motorcycle can be an exhilarating experience; however, it is crucial to be aware that the risk of being involved in an accident is approximately seven times higher compared to driving a motor vehicle, emphasizing the importance of safety precautions and proper training. To ride a motorcycle on-road, you must possess a valid motorcycle license in New Brunswick.
Ready to hit the road on your motorcycle in New Brunswick? Let's learn the safety guidelines together!
In this friendly guide, we'll help you become a skilled rider in a minimum of 12 months by guiding you through training courses and successfully pass the road test. A knowledgeable instructor will teach you everything you need to know about motorbike riding, and this training will help reduce accidents.
New Brunswick aims to reduce the number of traffic road accidents, and that's where course learning and training come into play. To begin the process, the minimum age requirement is 16 years old, and you must obtain a parent's consent that is witnessed by a non-relative, as well as provide proof of residence. For more details, check out the New Brunswick Motorcycle Handbook.
Get ready to ride a motorcycle in New Brunswick with a license! Here are eight simple steps to make your dream come true: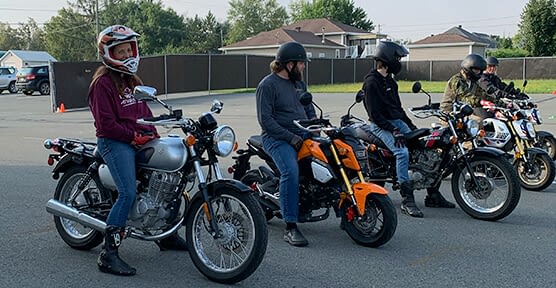 New Brunswick Graduate Driver License (GDL License):
1. Complete a certified program for motorcyclists;
2. Study the Driver's handbook in full;
3. Must complete and past SNB written test online or in person:
(* You are required to provide the certificate of completion for the safety course from your motorcycle driving school.)
4. Pass an eye exam at any SNB office:
Congratulations! You have successfully obtained your GDL (endorsement i), which allows you to ride any motorcycle, however it is subjected to four basic restrictions.
The subsequent step is for acquiring a full license (endorsement A).

5. Practice riding on public roads for a minimum of 12 months.
7. Pass a road test to obtain a full license.
8. Enjoy riding without restrictions and live your dream!
Confused about the various motor vehicle licence classes and endorsements in New Brunswick? We're here to assist you!
Minumum age – Classes define the types of vehicles you're permitted to operate.

14 years old – scooter (50cc) and farm ractor on highway

 14 years old – Farm tractor
 16 years old – Graduated Licence, Restriction: only one passenger with a Class 5 or higher
 16 years old – Graduated Licence, Restriction: Max of three passenger not between midnight and 5

16 years old – usualy people have (Class 5) with an endorsment (A, D, H, I)
18 years old – Regular Vehicles

18 years old – Ambulance and Taxi, Bus with a maximum of 24 passenger

18 years old – Vehicles with 3 or more axels Ex: gravel trucks.
18 years old – Bus with more than 24 passenger
18 years old – Truck Tractor towing a semi trailer Ex: 18 wheeler

16 years old – Motorcycle License – Valid for all motorcycles

16 years old – Motorcycle License – Valid for motorcycles up to 550cc

16 years old – Motorcycle License – Valid for motorcycles up to 550cc (graduated driver)

16 years old – Motorcycle License – Valid for all motorcycles (graduated driver)
New Brunswick Driver's Handbook available online or at Service NB
Reading the New Brunswick Driver's Handbook is essential as it provides comprehensive knowledge about:
 traffic rules,

safe driving practices,

legal responsibilities,

ensuring road safety,

Licensing Process;
It will help you pass your written test.
Click here to enter our Student Lounge, designed to offer even more assistance for your upcoming tests.
Step 1: Complete an approved New Brunswick Motorcycle training course to secure your GDL license.
In the province of New Brunswick, all new motorcycle riders and applicant's are required to complete an approved motorcycle driver training course before obtaining their learner's permit. The license, known as the Graduated Driver Licensing (GDL) Program, is mandatory for beginner riders. The training typically spans a weekend-long course.
Step 2: Get the NB Motorcyclist Handbook and start studying for the written test.
To obtain their Graduate Driver's License, every rider needs to successfully complete three written tests, which include new rules, and a vision test (referenced in Step 3 below). These tests can be taken either online or in person. Prioritizing safety, it is vital for all motorcyclists to have a comprehensive understanding of the road rules, including new regulations, before attempting the test. In order to pass, being thoroughly prepared by reading the entire handbook is a necessity.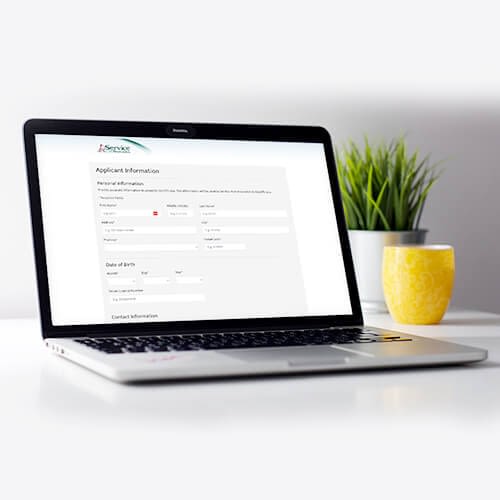 Step 3: Complete SNB written test either online or in person.
Register today at Service New Brunswick
You can fill out your application information today at the Service New Brunswick application website page.
Once you feel prepared, schedule your motorcycle GDL written test. The test can be completed online or by schduled in person through SNB. It will address various topics, including major road signs. Motorcyclists are among the most vulnerable road users, so grasping the rules of the road is crucial. Administered by the Department of Public Safety, the handbook will continually introduce new guidelines to improve riding safety for motorcyclists.
The four tests required by Service New Brunswick include:
A. Road Sign Recognition test
B. Rules of the Road Non-Commercial Knowledge Exam
C. Rules of the Road Motorcycle/Motor Driven Cycle Knowledge Exam
D. Eye Vision test
Take note that you should select the New Driver Examination Test bundle (Motorcycle) at a cost of $25 plus HST. If you do not pass on your first try, you have the option to retest immediately at a fee of $15 plus HST.

Step 4: Successfully complete a vision test
Visit the counter at Service New Brunswick with the necessary driving school training certificate to undergo your eye exam. Additionally, passing the vision test is the last step in activating your GDL permit.
Step 5: Maintain riding practice for at least 12 months.
With your learner's permit, you can begin practicing on a certified motorcycle. You must wear a helmet, gloves, and appropriate protective gear (steel toe boots not recommended) while complying with all traffic laws. The GDL license comes with certain restrictions. Here are four specific limitations:
A. Must maintain a blood alcohol level of zero while riding your bike;
B. Only ride during daylight hours;
C. Refrain from towing trailers;
D. No passengers are allowed to ride with you;
Note: There are no cubic centimeters (CC) restrictions with an (i) endorsement.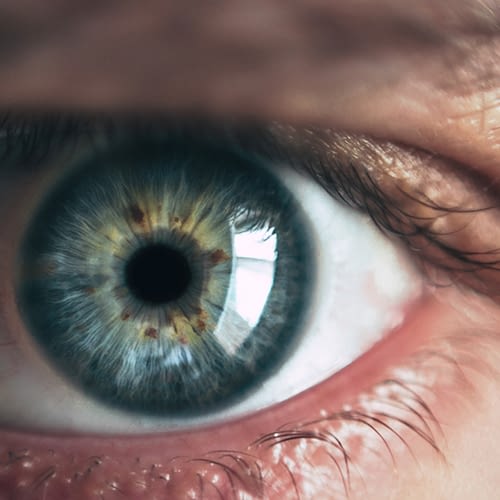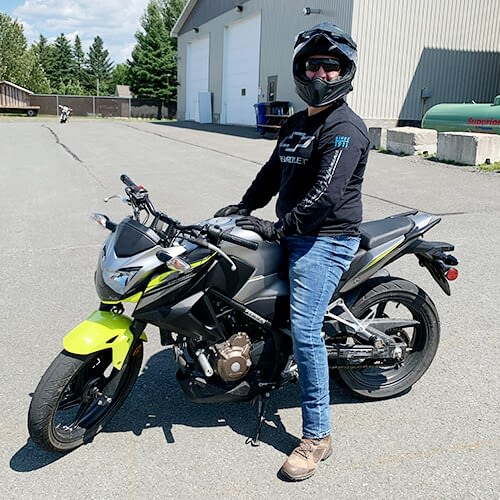 Steps 6-7: Book and complete the Motorcycle Road Test
Once you have practiced riding for a minimum of 12 months and feel ready, schedule an appointment for your road test. Remember to bring a registered motorcycle along with documents that show prove of insurance. The evaluation examiner will inspect your motorbike to ensure it's in excellent working condition. The road test will assess your maneuverability skills and your ability to safely ride the motorcycle on the road. Passing this test will lift any restrictions and grant you a full license (A or D).
You will be assessed on:
Your competence and confidence in riding.
Navigating different speed zones (30 km/h, 50 km/h, and highway speeds).
Performing shoulder checks at each intersection.
Safely merging lanes (with shoulder checks).
Properly stopping at traffic lights (left foot on the ground, right foot on rear brake).
Signalling turns (ensure you signal in advance and turn them off).
Maintaining correct road placement.
Keeping a safe distance (between vehicles and the stop line).
Adhering to common road rules (speed limits, traffic lights, school zones, and sharing the road).
Parking your motorcycle uphill.
If you encounter a pedestrian, always yield and give them the right of wa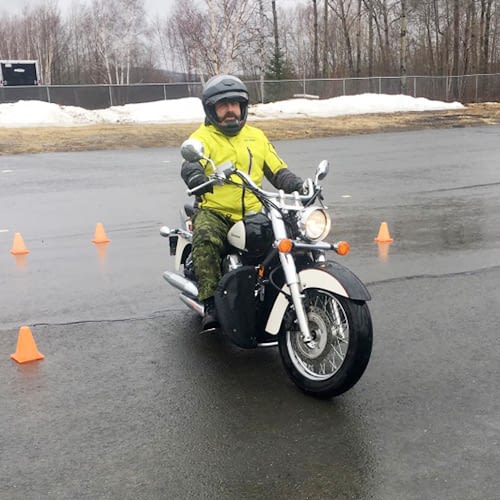 Upon passing the road test, you will be granted a full motorcycle license.
Tips for passing the Road Test for road users in New Brunswick:
Stay confident and maintain composure while riding.

Make sure you are fully rested and trust your riding skills.

Develop comfort in handling the clutch.

Practice riding under different weather conditions, including rain and wind.

Master your motorcycle's components.

Adhere to driving below speed limits during the test in New Brunswick.

Have a solid understanding of standard road rules.
Common reasons for not passing the test include:

Arriving late to the scheduled appointment.

Providing incorrect documentation (bike registration and proof of insurance).

Having a bike that is not in proper working condition.

Demonstrating a lack of confidence while riding.

Failing to respect traffic lines (avoid crossing over yellow lines).

Inappropriate speed (either too fast or too slow).

Forgetting to turn signal lights on/off.

Incorrect foot positioning (left foot should be on the ground and right foot on the rear brake during stop).
Step 8: Hit the open road and fulfill your dream
Obtaining a license entails a straightforward process with practice and preparation. By adhering to the steps in this guide and refining your riding skills, you can acquire your license and savor the excitement of the open road.
Cost to obtain a Motorcycle License from the Department of Public Safety
The fees associated with obtaining a motorcycle license in New Brunswick are as follows:
Course cost: $549.99

Written test fee: $25 plus HST for the first attempt

Retest fee (if needed): $15 plus HST
Fee for adding an endorsement: $22 plus HST

If you're pursuing your GDL and seeking practical training through a motorcycle program, the Moto Elite NB course is an excellent option. This program caters to riders with varying experience levels and boasts a high success rate among its students. If you aim to add an endorsement (A, D, H, I) to your Class 5 license, this is the perfect choice!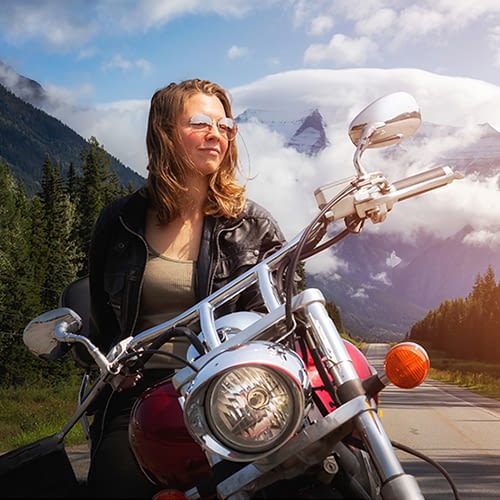 The ultimate objective for any rider in the province is to obtain a legal NB motorcycle license and safely operate a motorcycle.
Therefore, the final step involves visiting a local Service New Brunswick center to secure their license.
Searching for a top-notch safety course? Moto Elite NB provides the premier course in the province and ranks as the best in all of Canada. Don't just take our word for it – check out our five-star reviews.